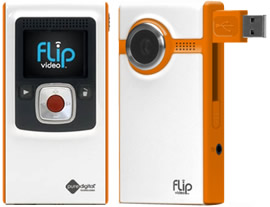 Sales Contest: Win a Flip Camera Just By Having A Great Sales Story!
Do you have a great sales story about the big deal you closed, the one that almost got away, or the win you pulled from the jaws of defeat? How about a strategy or sales technique that you've had success with? If you have some good sales information and are willing to share your story you could win a free Flip Camera from Breakout Selling. Here is a sale tool that is useful for both your personal life and selling. You'll find tons of ways to use this Flip Camera in your business – to get testimonials, do case studies with photographs and even capture celebratory moments when your customers buy.
I Need Your Help
If you've been reading the different pages here at Breakout Selling you'll see that I have to do a lot of writing and I need your help. Breakout Selling offers online sales training, sales training and sales training materials. In addition to that I've written several books on Lead Generation, Prospecting, and Selling in the New Economy. I really need some help and so I'm willing to offer a bribe to get it - a free Flip Camera. So  let's have a Sales Contest
Flip Cameras are the hottest electronic gadget sold on Amazon. These cameras take amazing video clips as well as great photographs. You'll love having one. The great news is that you don't have to spend over a $100 dollars to get one. Just share some of your hard earned experience with me and other salespeople. Every salesperson has interesting story and experience that can help others. Below are just a few of the tidbits that you can share to win a Flip Camera.
The deal that didn't get away
Prospecting methods you've had success with
Good cold calling ideas and scripts
A different sales contest you won
What's working for you in this down economy
Every quarter (and sooner if we have enough entries) Breakout Selling picks the  best entry and sends someone one of these hot Flip Camera's. Why shouldn't it be you?
Today the number one discussion is on how salespeople need leads. Demand    generation is critical. Sales prospecting, lead generation and capturing buyers  attention has never been more important. Perhaps you have a good technique or  method for prospecting. Share your ideas and enter to win a Flip Camera.
How This Flip Camera  Sales Contest Works
I've told you my reasons for needing your stories and running this sales contest. I want to use them to help other salespeople, illustrate sales principles and have interesting stories to include in future online sales training courses and sales books. Hopefully I've given you enough reasons to enter: the possibility of winning the hottest camera and gadget now being sold: a Flip Camera.  Here are the rules: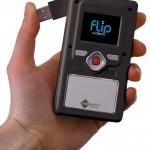 The strongest and best entries win -  like selling,  merit and quality counts
The story must be true and believable
Ideas, techniques and methods must be usable by salespeople, not just managers and companies
You must be a salesperson, rainmaker or a business person who sells
You must share (confidentially and 100% private) your contact details so that if you win you'll get your Flip Camera
That's it. Every submission will be read and rated in comparison to the other entries. On a regular basis, no fewer than 4 times a year, a winner will be announced and the Flip Camera sent to the winner. There are no fees, no shipping charges, no catches to this offer.
All you have to do is enter your information into the form below. I'll send you a confidential email with the email address to send your entry to. I'll even give you feedback and answer any questions you might have.
Not All Sales Contests Are Equal
I know, I've been in plenty, you probably have been as well. Well this sales contest is different because it isn't a give away to the sales manager's pet, or the guy who already is teed up with the biggest sales funnel or closed deals.
This Sales Contest is an equal opportunity contest available to all salespeople and entrepreneurs who sell.
Remember, you're going to have some stiff competition. My students, members and customers all participate in this sales contest and it won't be running for ever. The sooner you act the better chance you have of winning.
Good luck,
Russ
PS: Tooting your own horn like this is a good way for you to get recognized and some good publicity. You can use your stories in your own materials and if you're published in mine I'll send you clippings, books, and wherever else you get mentioned. This is a win-win for both of us. Put in your entry today. Enter your information in the form and get going now!
Enter now for the opportunity to win a flip camera for the best sales contest ever!